Summer Internship with Gokart Labs
How can we create a webpage that the new business team will send to prospective buyers?.
Overview
In the summer of 2019, I moved to Minneapolis, MN to begin a three-month internship at Gokart Labs (now acquired by West Monroe Partners). I worked as a UX Research and Design Intern with different teams on various projects; I was responsible for conducting usability tests and research studies for clients like United Healthcare, Anytime fitness ,and Allina health.
During my tenure at Gokart Labs, I worked on various healthcare projects and revamped the services page for Gokart labs. Unfortunately, due to the confidentiality and non-disclosure agreements signed with the clients, I am unable to share any particular details about the individual client projects. However, I will be discussing the redesign of the Gokart services webpage in this case study.
Role
UX Researcher/Designer
Tools
Deedose, Usability Hub, Sketch, Invision
Skills
Interviews, Usability guides, Data Analysis
Responsibilities
I was responsible for different project deliverables and tasks, but this is the highlight of the main projects I was involved in.
Created user research testing plans, surveys, interview guides, and moderation guides for healthcare clients such as RTI surgical and Anytime Fitness.
Conducted interviews with RTI patients and acted as a moderator. Analyzed and visualized the interview results and presented the results to the team members and stakeholders.
Participated in the United Healthcare design sprint in which I created a list of 'How Might We' processes and drew sketches and wireframes. I also participated in one of the user testings with UHC and analyzed and summarized the results for other designers.
Restructured Gokart Lab's services webpage.
Challenge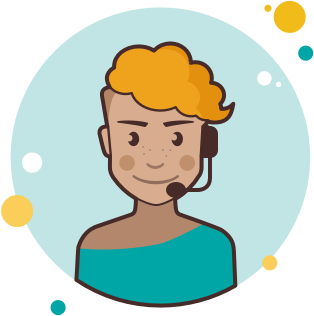 Gokart Lab's marketing and PR team have struggled to explain its mission and reach out to customers. The team wanted to create something that Client Leads can send to a prospective client (before or after the sales pitch) in order to enable the client to better understand how to engage with GoKart Labs.
Solution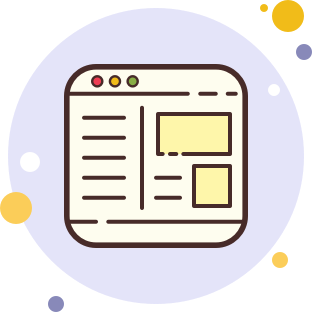 Create a webpage that the new business team will send to prospective buyers. The reconfigured webpage should make it easier for customers to buy Gokart Lab's services and help inform clients before or after a pitch.
Understand
This section gives a brief explanation of Gokart Lab's target audience and the research conducted to better articulate the problem.
Who is the Target audience
The target audience or primary users of Gokart Lab's services web page are the company's prospective clients. Generally, these companies or users are looking for a product consultation or wish to successfully introduce new products to the market using Gokart's team of designers and developers, or employees who wish to launch their own startups and later integrate it into the company. It can be a small or large company target by these domains.

User Research
I conducted interviews and read all the previous decks that were presented to the potential clients. During the interview process:
Worked to understand the current selling narrative of Gokart labs by talking to people who are directly involved with sales and marketing.
Created an interview script that had all the questions that would give the team an in-depth knowledge about the company's current sales process.
Conducted 8 interviews with the sales and marketing teams and the interviews lasted for approximately 20 - 40 minutes. Interviews were also held with the CEO and marketing leads of the company.
Each interview was recorded and later transcribed and coded for ease of understanding and transmittal.
Competitive Research

Analysis
Hand-code the interviews to turn qualitative data into quantitative data. Each interview was transcribed and codes were derived from those interviews. The codes were later combined to generate four main themes.
Findings from Competitive Analysis
Doing competitive analysis helped me get a clearer picture of what is required in the industry and what needs to be done and whatnot. I broke down the major findings into this and not that section which explains how services should be presented and what should be included.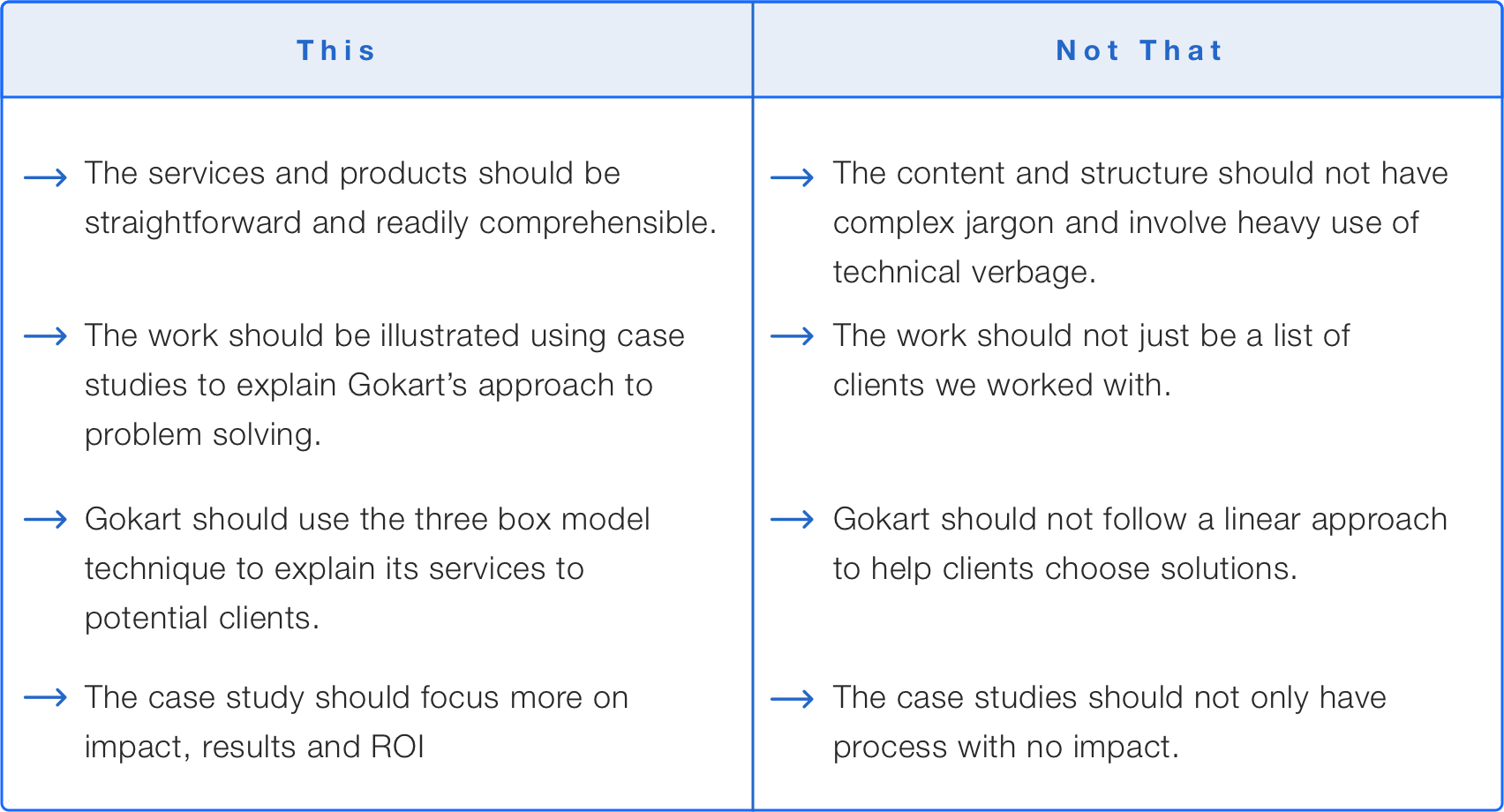 Design
After discussions with the sales and marketing teams, I was able to get an exact picture of the shortcomings of the Gokart services webpage as well as explore the opportunities for improvement. Thus, I started brainstorming and sketched some initial ideas. Thereafter, I collaborated with designers from different teams and iterated on the recommended changes.

Keeping into consideration the importance of brand and brand identity as one of the selling points of Gokart services. I used the design elements defined by Gokart brand book and created a style guide that was used to create high-fidelity prototypes.
Design Style guide

Using the style guide I played around with different design variations and sought feedback from visual designers. I made sure the design is accessible and illustrations and text make sense together. These are some of the design variations that I did before finalizing the current design.
Design Iterations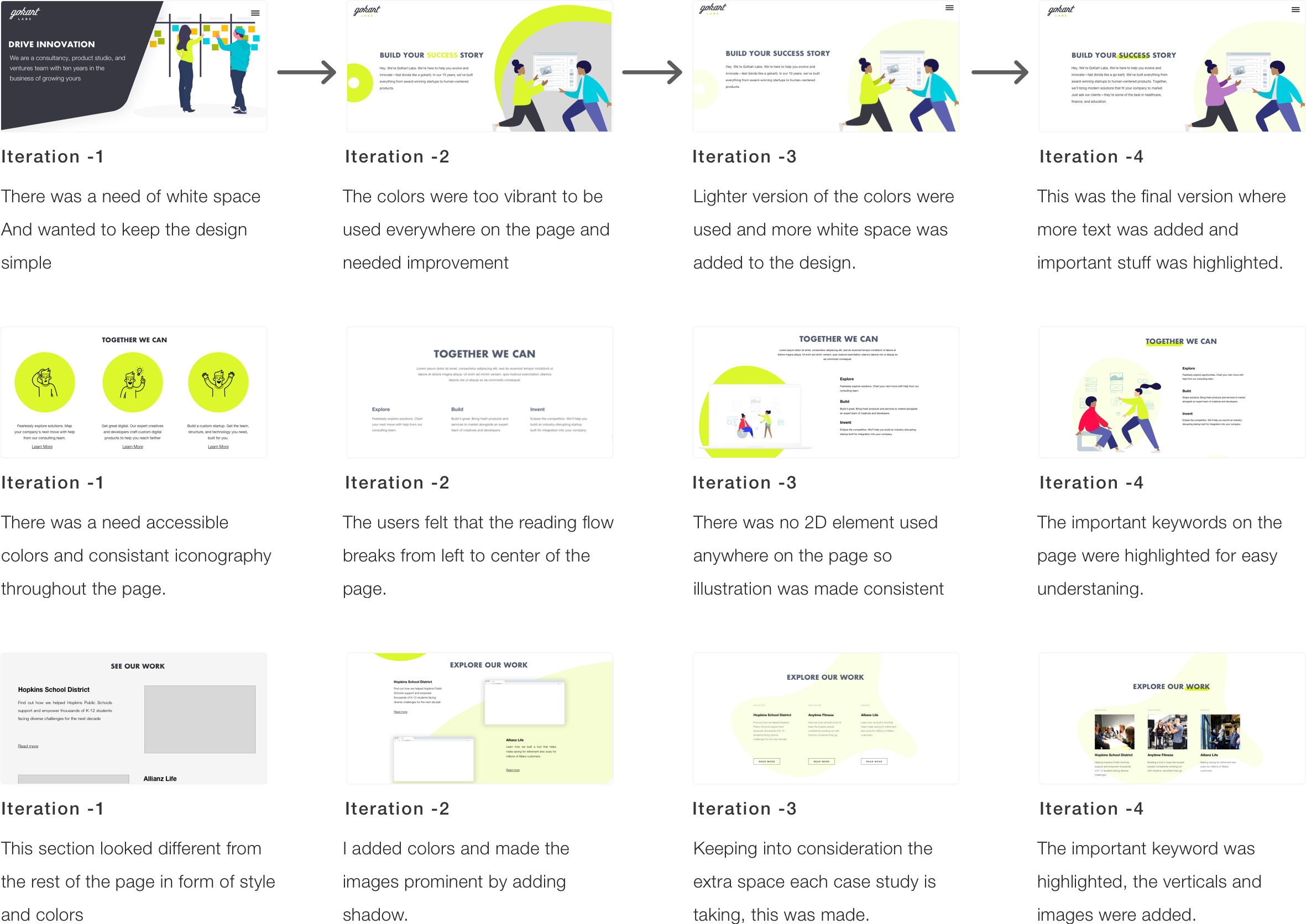 Build
This is the high-fidelity prototype of the services page that I designed. The first page explains what services we provide without complicating what product studio, consulting or ventures are. This page further gives an overview of the case study categorized under each vertical (healthcare, finance and education). The last section of the page shows how we work and a quote from the client to express building trust.
On clicking each case study, this prototype shows the detailed view of the case study. The importance of numbers in the case study our process and the results that were given to the client.
Reflections and Takeaways
I feel fortunate enough to have had the opportunity to work for a design agency such as Gokart Labs that allows its employees to innovate and stride further. I was able to work across diverse teams on multiple projects, allowing me to diversify my experience while still keeping the user at the center of each project. I learned some valuable lessons such as:
Different projects require different research methods - I learned that the type of research methodology undertaken depends on the timeline of the project as well as the type of information that we need to gather. Various qualitative and quantitative methods can be used to gather data based on the data needed and the time available to tackle the research.
Time management - Working on different projects can be strenuous at times and requires the skills of project management and prioritization.
Collaborating with cross-functional teams - I had the opportunity to collaborate with managers and developers across multiple platforms as well as the quality assurance team and marketers to re-introduce Gokart's products and services to its customers. This enables me to learn more about the different teams at Gokart and learn how to work with different people with diverse working styles.
Read my detailed reflection on my internship experience.
If you have any questions, please feel free to reach out to me. I would love to share my experience with you.