Help reduce youth violence and prevent bullying
How does an organization that is fully mobile with no fixed workspace use technology?.
Overview
We explored the various ways a small non-profit used available technology to navigate their occupations in the field. The goal was to first start with ethnographic methods of data collection to gather detailed qualitative data that was not biased by implications for design. Insights were later developed from this data to search for ways to apply Human-centered design solutions and help the organization reach the desired audience.
Role
UX Researcher / Designer
Tools
Wordpress, Deedose, Sketch
Skills
Observations, Interviews, UI Design
Challenge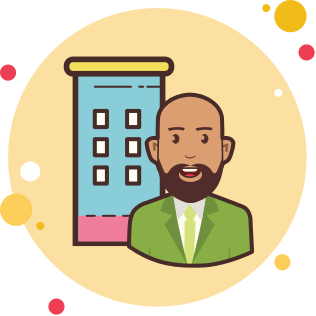 How can an organization without an actual office space teach students the art of conflict resolution, reduce youth violence, and prevent bullying?.
Solution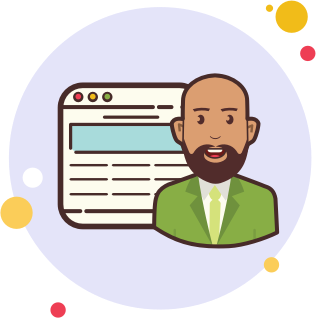 We discovered FLA was in the process of expansion. Based on our findings, we concluded a new website with more content would support that growth.
Process
Our process used ethnographic observations, in-person interviews, coding to convert qualitative data to quantitative data, and user research survey studies. Doing information architecture through card sorting, treejack and sitemap and finally making sketches, mid-fi wireframes and prototypes.
Process Breakdown

Understand
To understand the structure and functioning of the organization we used ethnographic methods which included observations, in-person interviews and user research survey studies. We also used various theories to understand the different elements involved in a classroom project.
Using an Activity Theory we found the relationships between the roles of people, tools used during the workshops, and the environments where the workshops take place.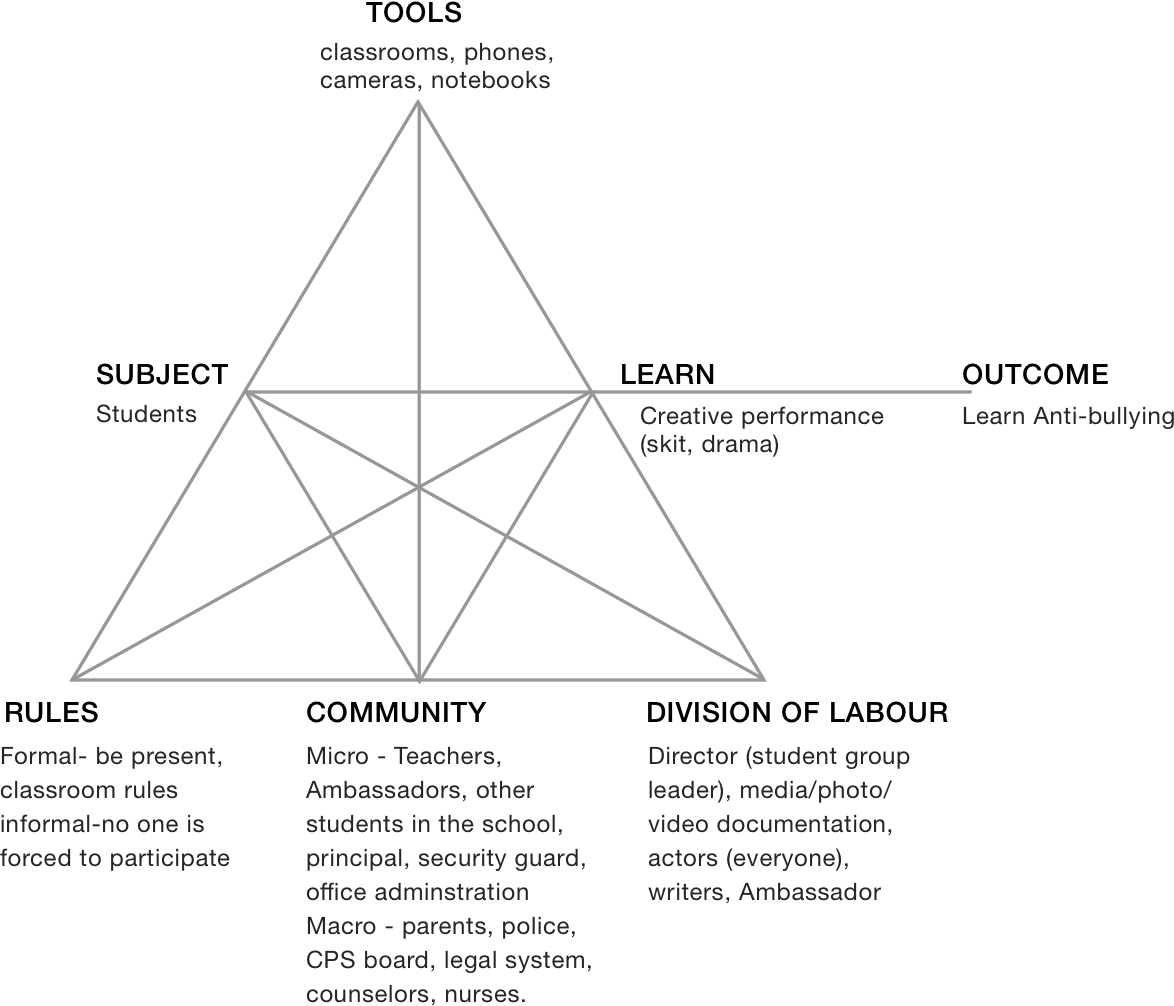 Concepts from the Value Sensitive Design methodology guided our team to be mindful of the ethical values of the organization we were serving and to consider the future impact of our work.
Observations
We did eight field observations where each observation lasted for one hour. Two observations were at remote locations with our community partner and Six observations were in the classroom at National Teachers Academy in Chicago, Illinois where Free Lunch Academy conducts workshop sessions.
Our observations were non-participatory and sought to capture detailed descriptions.
During the observations, we took field notes and later wrote thick description for each observation and documented all the data
All the gathered data was uploaded to Dedoose for coding

Interviews
We created three interview scripts (for Ambassadors, teachers and founder of Free Lunch Academy):
Each interview lasted for about 20 to 40 mins
All the interviews were audio-recorded and later transcribed and added to Dedoose project.
All the gathered data was uploaded to the Dedoose for coding
An Inductive approach was followed for analyzing the data
Analysis
We hand-coded our data to turn qualitative data into quantitative data. Our observations and interviews were all uploaded to Dedoose and resulted in 108 pages of qualitative data. We open coded 20% of the total data and came up with 168 codes. These 168 codes were refined into a code book of 51 codes arranged by themes. A total of 954 codes were applied to the 108 pages of collected data allowing us to see trends and items of greater importance.
Findings
During the course of our research, we discovered FLA was in the process of expansion. Based on our findings, we concluded a new website with more content would support that growth. A Heuristic Assessment found design inconsistencies with the existing website which made navigation difficult.
FLA was in the process of expansion. Based on our findings, we concluded a new website with more content would support that growth.
Technology (laptops and smartphones) helps students engage in the project by doing the research before the acting portion of the project and recording passages of plays in progress to the finished video of the play.
More online content on the FLA website can support planned growth for the coming years and be added to the current content available.
Teachers could be supported with needed statistics, grant writing information and details about what a workshop entails before embarking on one. Ambassadors could access all of these resources during workshop sessions.
Main Themes from research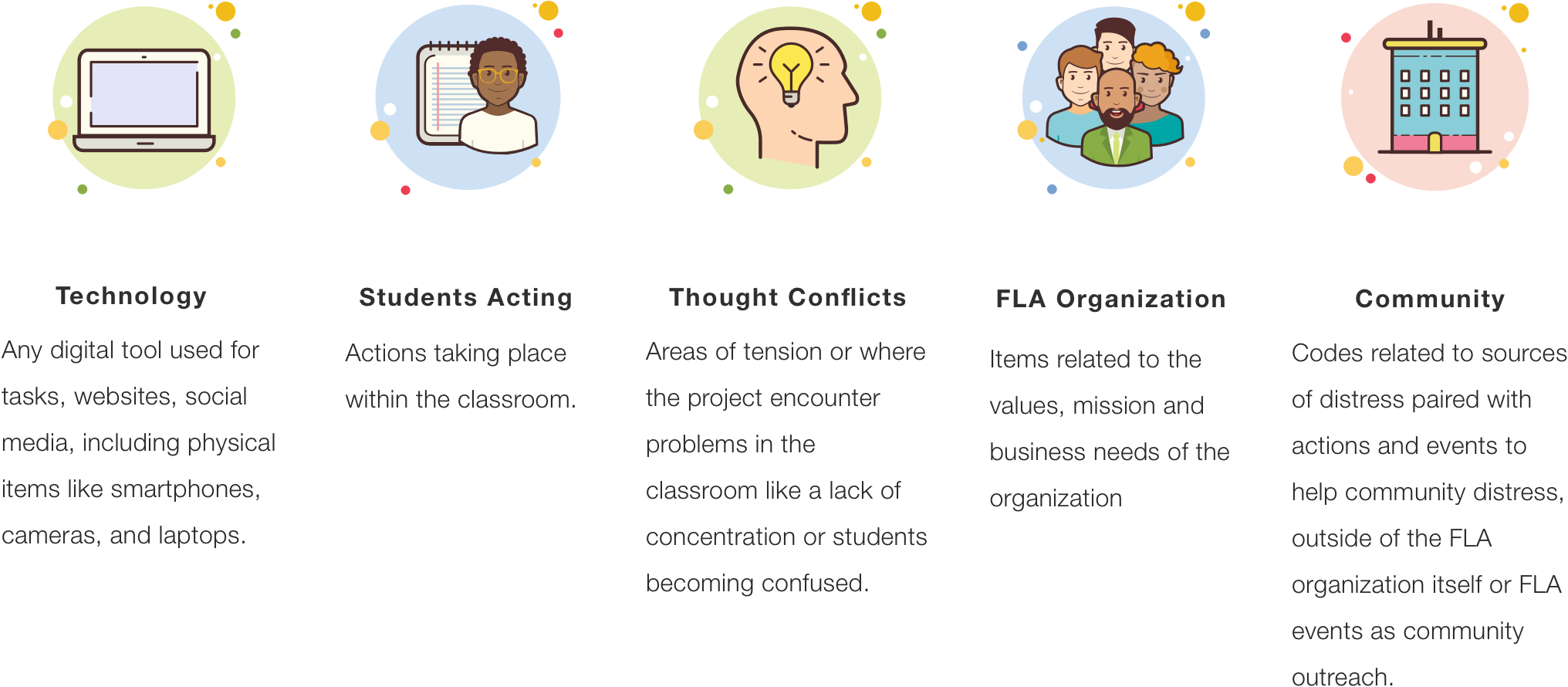 Design
The Design phase includes conducting sessions for information architecture, brainstorming, sketching out ideas, making wireframes, collecting feedback from community partners, choosing a theme for the Wordpress website and building the Wordpress website.
Information Architecture
After deciding upon the website user research was conducted using the online survey studies provided by Optimal Workshop and data was gathered through card sort, treejack and concluded in the sitemap. A total of 2 card sorts and 2 treejack tests were done.
Card Sort 01 came first with 11 participants placing items into categories for the planned future website.
Card Sort 02 was conducted with 32 participants using five website categories with 11 sub-categories this test had a higher agreement among the users tested.
The first Treejack test had 17 participants familiar with FLA attempt 8 tasks with a high level of success.
The second Treejack test with 8 participants used a new pool of users that were not familiar with the FLA organization or its classroom projects and users failed half of the tasks. The 5 categories with 21 sub-categories used were deemed to be too many for new users to navigate well.
Card Sort and Treejack tests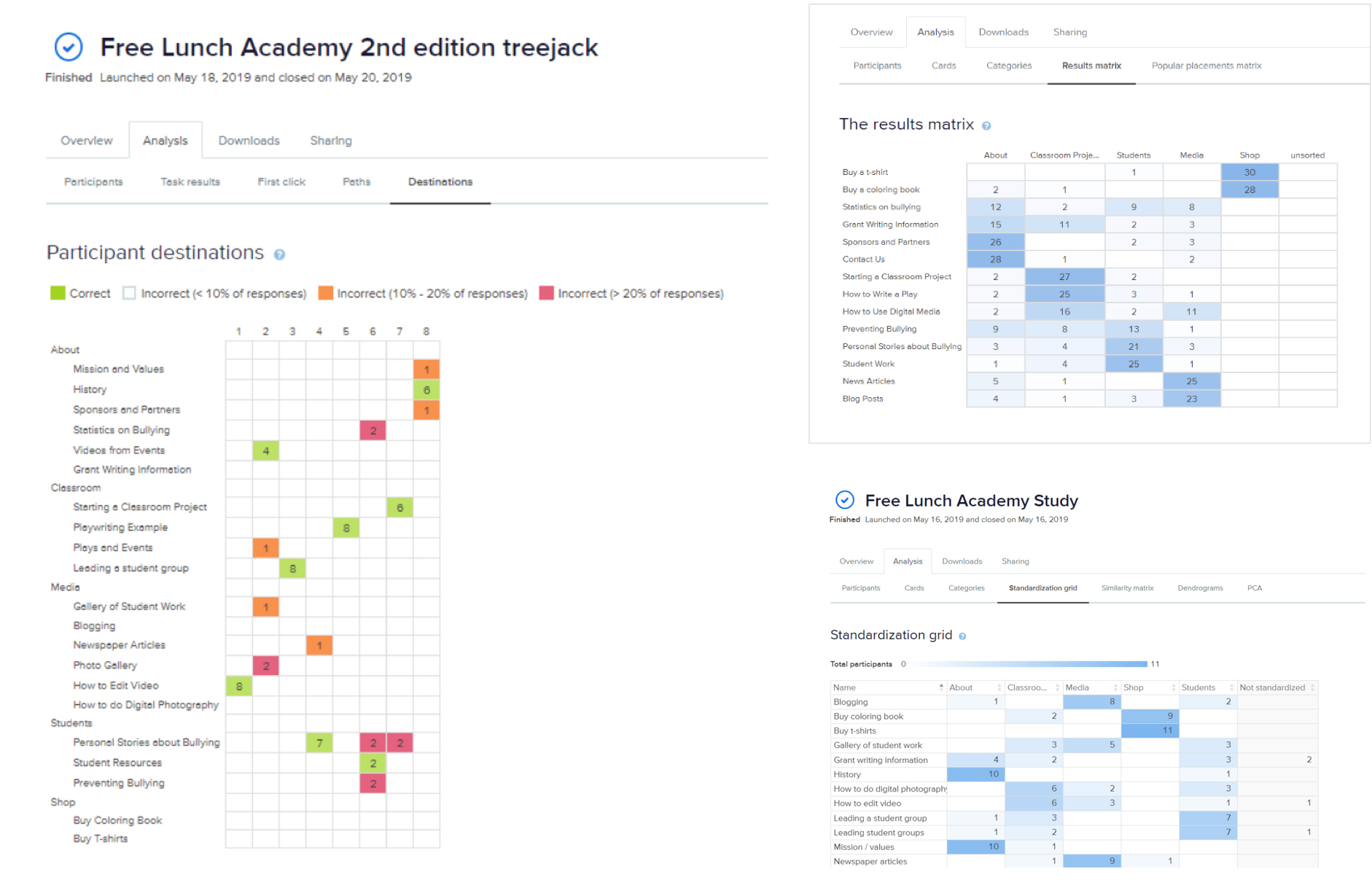 Using the results from the card sort and treejack tests, I made a site map where each heading represents the main navigation and subheading represents the content on each page.
Navigation and Page Content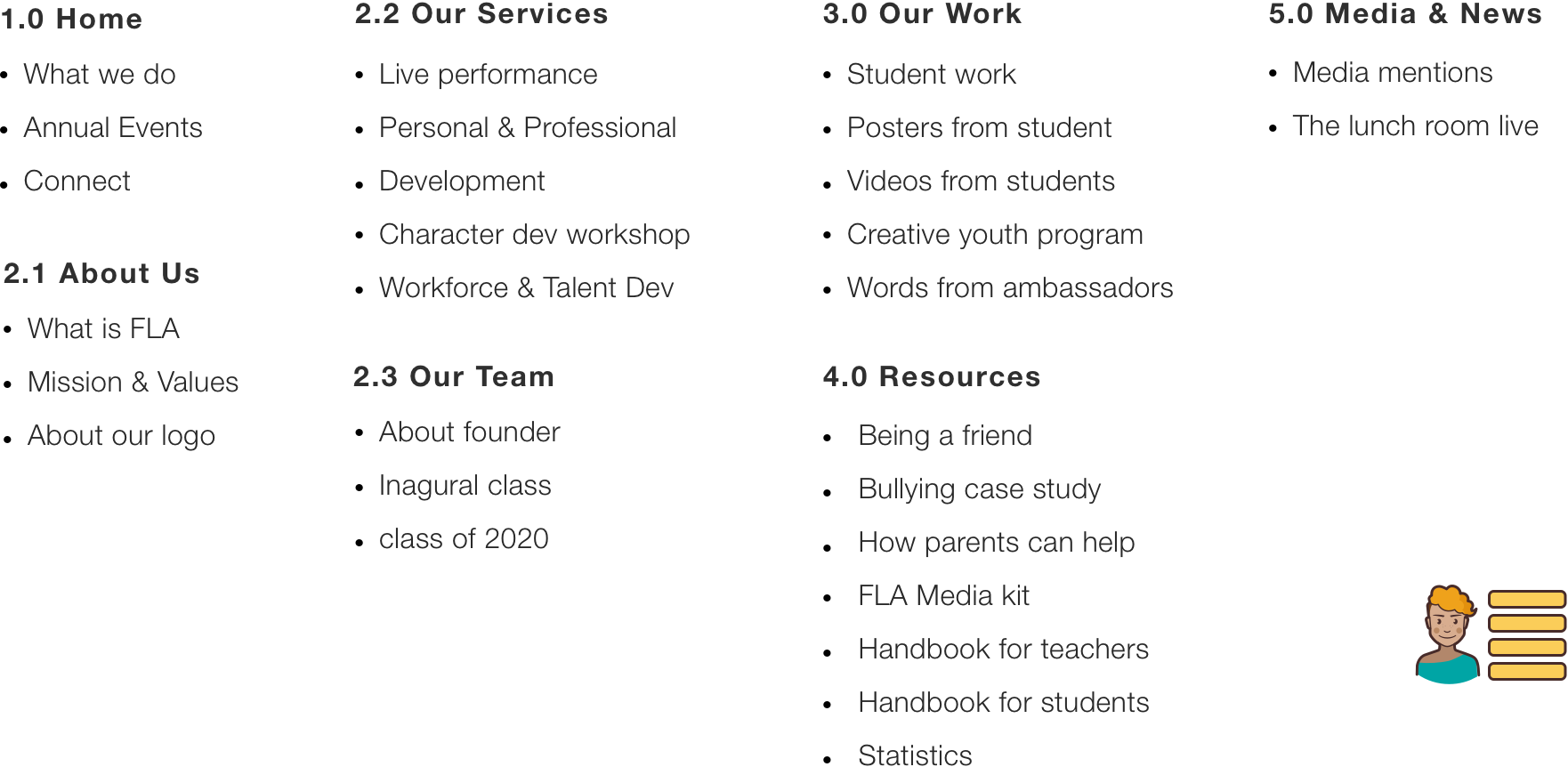 Sketches and Wireframes
We sketched out our initial ideas and made wireframes, which were shown to our community partners and teachers.
Wireframes

Build
After designing the wireframes, we showed it to our community partners, ambassadors and teachers for their feedback. The feedback was used to iterate further and find a theme that matches our proposed design. Taking into consideration that Free Lunch Academy needs a website but has no developer to build the website, I developed a Wordpress website for Free Lunch Academy.
Reflection and Takeaways
Contemporary technology makes it possible for an organization to be fully mobile and not require a physical office space. This frees up funds from the burden of rent and utilities to be used for its mission. Studying how FLA used existing technology at their disposal gave us insights on what changes could bring improvements; these changes largely centered on their website as their public face in the world.
Ethnographic research methods - observing middle school students perform activities and noting down each activity was a challenge in itself, but these observations helped us learn more about the organization and come up with better design principles.
Decisions backed by Data - It is important to back design decisions with the data collected from research. We collected 108 pages of data which helped us inform design.